by Dave Waddell
A couple dozen citizens gathered Monday evening for an "angelversary" to remember the life and death of Tyler Rushing, one year to the day after he was killed in a downtown shooting involving Chico police.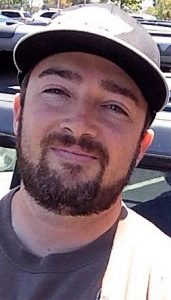 "It's a very hard day for us," said Scott Rushing of Ventura, Tyler's father. Rushing said he expects to experience "a lifetime of trauma" over the killing of his only son on July 23, 2017. The shooting involved a private security guard and a Chico police sergeant.
In addition to Rushing and his wife Paula, in attendance at the commemoration were members and supporters of two other families who have had loved ones killed in officer-involved shootings in Butte County in the past 1½ years.
"I fight for them all because they all matter," said Kat Lee, a member of the Justice for Desmond Phillips group. Phillips, a young black man in mental crisis, was shot 11 times on March 17, 2017, in his own living room by Chico police.
Much of the wrath of those who spoke was directed at District Attorney Mike Ramsey for what his critics describe as a law enforcement culture in the county in which deadly force is too readily employed without legal consequences for the involved officers.
"We're going to bring Ramsey down together," said Erica Traverso, also a Justice for Desmond Phillips activist.
Ramsey, the county's top prosecutor for more than 30 years, was re-elected in June to a four-year term while running unopposed. Although Ramsey cleared the Chico policemen involved in the Phillips and Rushing deaths of any criminal wrongdoing, state Attorney General Xavier Becerra's office is formally reviewing both shootings.
The Justice for Desmond Phillips group recently posted on Twitter its expectation that it would soon meet with officials from the state Attorney General's office.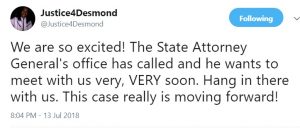 Ramsey said today the criticisms of him offer up a "false narrative."
"There is no culture of using deadly force too readily," he said. "When officers or the public are attacked and officers respond with deadly force, a full, fair and complete investigation is completed in each case."
Monday's invitation-only gathering hosted by the Rushings at Roots Catering on the Esplanade became something of a forceful coming out for the family of Myra Micalizio, a 56-year-old Palermo woman shot dead by two Butte County sheriff's deputies on April 26. Ramsey has not yet issued a report on the Micalizio shooting. News outlets have reported that both deputies who fired their pistols, Charles Lair and Mary Barker, failed to activate their body-worn cameras.
Greg Abrew of Oroville, Micalizio's brother-in-law, told Monday's gathering of his reaction when he heard how she died.
"I said, 'No way. She would never do anything against the police,'" Abrew said. "She was a loving person. It's been rough on all of us."
One of Micalizio's nine siblings, Tommy Widener of Oroville, also condemned the circumstances of his sister's death.
"Nobody should have to die like that," he said. "Butte County's going to hell."
Another Micalizio sibling, Brenda Widener-Abrew, said she's come to learn that "Butte County is littered with civilians" killed by law enforcement, and she thanked the group for their support.
"I haven't had a voice since April because I didn't know what to say or who to say it to," she said. "I got a voice now with you guys backing it up."
Emily Alma of Chico encouraged those in attendance to become involved with Concerned Citizens for Justice, which is working to create a citizen review board of police conduct in Chico.
"In my sadness and shock at Desmond's murder … one goal is to transform the violent culture of law enforcement in Butte County," Alma said.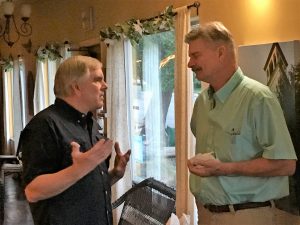 Scott Huber, who's running for Chico City Council in November, said he came to the remembrance at the Rushings' invite after having expressed support as a candidate for greater police oversight.
Dave Waddell is news director at ChicoSol.