by Leslie Layton
Like thousands of Californians, Los Angeles filmmaker Nirvan Mullick spent early November following wildfire news and worrying about friends and family who were in harm's way.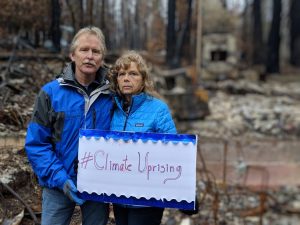 Then, two developments forced him to think in a larger context: President Donald Trump visited Paradise and advised Californians to rake their forest floors, and Sen. Bernie Sanders announced a national town hall on climate change. The Washington, D.C., town hall would feature well-known experts and activists – climate change stars, so to speak.
And that was when Mullick had a uniquely Mullick thought: What if the town hall also included Camp Fire survivors from Paradise who could tell powerful stories of escape and loss? After all, experts have been clear that while climate change didn't cause the Camp Fire, it played a big role in its explosive character.
That idea soon blossomed into something larger, as often happens with Mullick's projects. These days, while Mullick is focused on a short-term goal — to provide a video platform for stories from the Camp Fire and produce a film about the fire and climate change – he's also thinking long term.
Mullick, as co-founder, now plans to build a global movement, #ClimateUprising, that will help people around the world who have been affected by climate disruptions tell their stories and become part of a bipartisan call for action.
Four people who survived the Camp Fire, plus three local community leaders, including Democratic congressional candidate Audrey Denney, traveled to the Dec. 3 town hall. They participated in 17 meetings in Washington, D.C. in two days with influential figures, including Sanders and Congresswoman Nancy Pelosi. By the time they had returned, the group had a project outline.
"This is a town that's just gone through a disaster on a scale that's hard to fathom," Mullick says. "I know the power of a story, and this town has a story the world needs to hear."
Paradise residents are in the unfortunate position of being able to share stories that can encourage understanding of the effects of climate change on individual lives.
Now, photos and video of Camp Fire survivors, often holding cardboard signs that say "#ClimateUprising" and standing in the ashes of decimated Paradise homes, are popping up on social media.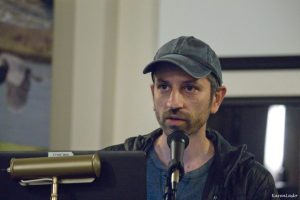 "We believe that Paradise can be to climate change what Parkland was to gun reform," Mullick often says. "We're seeing more and more climate disasters, and we know that climate change is making wildfires more frequent and more ferocious."
In fact, acreage burned by wildfires nationwide has almost doubled in the past 30 years as the dry season becomes longer and hotter, and fires become more explosive and difficult to extinguish, according to Citizens' Climate Lobby, which hosted a forum earlier this month at Chico's Gateway Science Museum.
The next step for #ClimateUprising is a Sunday photo shoot designed to produce what Mullick calls an "iconic image" – one likely to spread rapidly on social media — that suggests the impact of a fire that displaced more than 50,000 people.
At 1 p.m. Feb. 17, #ClimateUprising plans to shoot a "group portrait" in Paradise featuring up to 1,000 people, including Camp Fire survivors and area residents who support action on climate change. A professional film crew will work under Mullick's direction, using a 30-foot Jib Crane, to photograph the crowd holding up a giant #ClimateUprising banner.
Beyond that, a Chico State student member of the newly-formed Chico chapter of #ClimateUprising is planning a student strike. The chapter is helping to plan a town hall this spring, the "CampFire Town Hall on the Climate Crisis." Mullick will use the group portrait to promote the town hall.
It might seem surprising that Paradise – a town that has been, historically, very conservative and ruggedly individualistic — would become emblematic of the devastating effects of climate change. (According to the Butte County Clerk Recorder's office, 68 percent of registered voters were either Republican, American Independent, Libertarian or unaffiliated, in the last election.)
But Mullick argues that even though climate change has been turned into a hot-button political issue by the conservative establishment, it deserves and requires bipartisan thinking.
"…the scientific debate on climate change is over," states the Climate Uprising website. "The climate crisis stories should be documented at the same scale as a genocide or the holocaust…."
Mullick, 43, is soft-spoken and thoughtful, a man who was born in India and raised in Florida. (His first name is pronounced like "nirvana" without the "a.") He has an MFA in experimental animation from the California Institute of the Arts. He's long been interested in social-impact filmmaking; he's demonstrated a talent for envisioning imagery that conveys a relatable message.
In his 11-minute film, "Caine's Arcade," the filmmaker used social media to organize a "surprise flash mob" — a crowd of customers for a cardboard arcade that had been constructed by a boy in east Los Angeles. If you missed this film short when it was viral, scroll down this page to watch it.
Mullick also directed the #EarthtoParis video campaign for the United Nations Foundation urging world leaders to act on climate change. He believes it's the most urgent matter on the table.
"I'd like to have a family one day," Mullick says, "and I'm concerned about what kind of a world we would be leaving them with.
"A lot of money has been spent to sow confusion," he adds. "We've got 10 to 12 years to keep [Celsius temperatures] from rising over 1.5 degrees, which is the line in the sand that scientists said we should not cross. It's a matter of life and death, in the long run."
Mullick plans to follow the town of Paradise, and the region, for that matter, right up to the 2020 election to see whether a District 1 congressional representative is elected who will act on climate change. The Camp Fire that devastated Paradise struck two days after the Nov. 6 re-election of Congressman Doug LaMalfa, who hasn't acknowledged human activity as a driver of climate change and has been labeled by the climate movement as a climate change denier.
"I'd like to see if this wildfire doesn't have an impact on how this town thinks about climate change," Mullick says. "Climate change should be the number one issue when we vote. We need leaders who will take the boldest steps based on science to protect our children and our future."
In the 2018 General Election, LaMalfa won over Denney in Paradise by almost 4 percentage points. So will the Camp Fire – which moved with extraordinary speed because of changing climatic conditions – shift views?
Paradise Mayor Jody Jones declined comment, saying she didn't know the work of #ClimateUprising or want to become "embroiled."
"I'm focused on rebuilding and helping the people of my town," Jones told ChicoSol.
Mullick believes opinions are shifting as people sense that the Camp Fire was an extraordinary event. He tells the story of meeting a Republican veteran in a local hardware store who had supported LaMalfa and lost his home in the Camp Fire. He and his wife have joined Climate Uprising.
"We can't be afraid to have these conversations. It's really important we find a way to talk to each other about this," he says, noting that he tries to be "delicate" because of what Camp Fire survivors have been through.
"The facts are the facts," Mullick says. "We want policy based on a consensus in science."
Chico State geography professor Mark Stemen says he was immediately drawn to the Climate Uprising tag line, "We must rise before the sea" and reached out to Mullick. Stemen, who heads the city's Sustainability Task Force, says he's seeing new faces at local meetings on climate change because of the Camp Fire's impact and Mullick's work.
"He's bringing together a really diverse group of people," Stemen says. "We're seeing a lot of people who weren't necessarily talking about this before. The fires have given us an opportunity to speak those unspeakable fears."
Stemen says the #ClimateUprising Facebook page now serves as an "umbrella alliance" for local groups that were already working on related issues.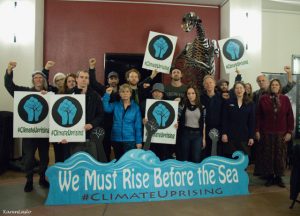 Stemen also believes Mullick's work will help keep national attention on the Camp Fire disaster and the need for resources to help the town recover.
"Climate Uprising also helps keep the Camp Fire in the national consciousness, and that only helps in the local recovery efforts," Stemen says. "Butte County needs the nation's help."
Leslie Layton is editor of ChicoSol.