by Leslie Layton and Dave Waddell
Item 5.5 on tonight's City Council agenda could easily be overlooked given other hot-button topics competing for attention. But it could be instrumental in shaping police-community relations.
Mayor Randall Stone has agendized a discussion on the Police Community Advisory Board (PCAB), a nine-member panel, in a bid to press for more transparency from Chico Police Department. [Editor's note: Stone tabled the discussion at the Feb. 18 meeting until a replacement for the retiring chief is appointed.]
Retiring police Chief Michael O'Brien is in the process of reviving the board, while Mayor Stone indicated he'd like to see the board dismantled — even though that's not what he's asking for tonight.
Stone said earlier this week that he doesn't believe there's any support for dismantlement, that he's hoping the Council will "move in a direction toward greater transparency, change the PCAB to provide more community engagement."
Stone said he became particularly concerned after ChicoSol posted a Dec. 30 commentary that reported how the Butte County Sheriff's Office complied with this outlet's August 2019 Public Records Act request made under Senate Bill 1421, but Chico Police Department did not.
"It strikes me as uncomfortable and unusual if other agencies are able to provide far more," Stone said. "Then I think there's a problem."
The city's first response to ChicoSol's request, received in October, had to do with officer Alex Fliehr's shooting of Desmond Phillips and use of a stun gun on Tyler Rushing, both in 2017. Unlike the Sheriff's Office response, Chico PD provided no reports to ChicoSol written by officers involved in or investigating the two incidents.
Just two weeks ago, ChicoSol received additional documentation from the city attorney's office that reflects partial compliance with a records request that had been made six months earlier. That documentation was a response to a request for officer Steve Dyke's personnel records. ChicoSol requested those records after two incidents made the news in which Dyke was accused of traumatizing citizens who had committed no crime.
Unlike the Chico PD's earlier response regarding Fliehr, the Dyke documents do contain reports written by the officers involved, including Dyke.
The city also provided redacted body camera footage from the night in July 2017 when 34-year-old Tyler Rushing was killed.
In a recent wide-ranging, 90-minute interview in his office with ChicoSol, O'Brien said the PCAB would begin meeting again no later than in April. On its Web page, PCAB says it serves as a "link" between police and the community and is designed to "enhance communication between the two."
According to agendas provided to ChicoSol by the City Clerk's office, the PCAB met three times in 2018, then went into hiatus in 2019. That was due, O'Brien said, to demands of the Camp Fire. According to Dani Rogers, deputy city clerk, PCAB meeting minutes have not been prepared since 2015, the year O'Brien became chief.
Stone says the PCAB has served as what he calls the "chief's standing presser" — a vehicle for department press conferences or information flow. He'd like to see Chico PD become more open to citizen engagement, community review and responsive to legitimate public record requests. With Chief O'Brien retiring, Stone said, "this is the time to make a change, to move forward to create something else."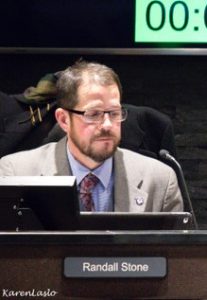 Contacted early Monday, Councilmember Karl Ory had just returned to Chico from an out-of-town trip and was mildly surprised that the PCAB discussion had been agendized.
Ory said that "without knowing more" he probably wouldn't support dismantlement of the PCAB and might favor instead "giving it more oversight and responsibility."
That seems to be the direction the group Concerned Citizens for Justice (CC4J) will take. CC4J believes the Police Community Advisory Board doesn't have the independence or authority it needs, but that it has potential.
"It's really the chief's advisory board," said CC4J's Emily Alma. "He chooses the people who serve on it. He controls the agenda. It's not really an exchange where public ideas are considered."
For example, Alma said, there was no discussion about what occurred the night Desmond Phillips was killed in his home by police. "Here was something that was so disturbing to the whole community, but PCAB didn't open up for public comment. That was a red flag to me."
Nevertheless, Alma said Chief O'Brien has moved the department toward more community engagement.
"He's made progress toward community policing, toward making the shift that we see as being important," she said. "We see the need for changes to go further and hope the new police chief is receptive to our concerns."
O'Brien indicated he was proud of having formed a board that reflects the community's diversity; it includes members of the African American, Latino and Hmong communities.
Board members are the chief; former PCAB chair Jovanni Tricerri; Councilmember Kasey Reynolds; Chico State professor Nandi Crosby-Jordan; Butte County Office of Education staffer Gloria Halley; claims specialist and investor Michael Lo; Action News Now's Julia Yarbough (who worked formerly as a Chico police media spokesperson); business developer Tom van Overbeek; and Rob Berry, a controversial figure at many public meetings who founded Chico First, a group that aligns itself with conservative candidates and causes in advocating for public safety.
Leslie Layton is editor of ChicoSol. Dave Waddell covers policing issues as a longtime contributor.