by Morgan Kennedy
guest commentary
"Chico First," "One Chico," "Safe Chico," or whatever this group is choosing to call itself this week had a protest in front of city hall on Tuesday.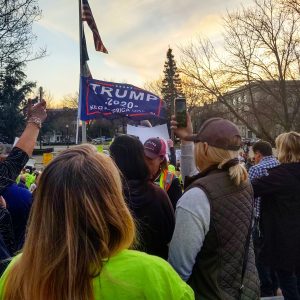 As a response to a recent escalation in the aggressive language members or supporters of the groups use on social media, some Chicoans – myself included — decided to hold a counter demonstration prior to the City Council meeting.
Most of us arrived shortly after 5 p.m., and their protest — an effort to influence the Council on issues related to homelessness and needle distribution — was well underway. There were throngs of people in highlighter-yellow shirts on the Main Street side of city hall. They had bullhorns, whistles, and a flatbed semi-truck sporting the slogan "save our town." There was also a large Trump 2020 flag being flown, and several in the group wore MAGA hats or other Trump regalia.
Our group gathered at the other entrance, several yards away from the protest. Safety was a concern from the beginning. They had a much larger group and had expressed in various online forums that they were not happy we would be present. One man posted online in the days prior that "baby food jars full of muriatic acid wrapped in tin foil" should be brought to their protest to use on us. Luckily, this was reported to Chico PD, which took the threat seriously.
For our demonstration, we had agreed to print on large sheets of paper some of the posts from Facebook pages and place them on the sidewalk. The posts were comments that had been made in response to news articles and on the pages of some of the groups that say they've formed around the issue of public safety. There have been comments about beating homeless people to death and comments about poisoning and exterminating them. One in particular stood out to me. A commenter wrote, "I told him the good thing about taking you out Is that no one will notice your gone! (sic)"
I hope that nowhere in America is there a place where someone could be murdered on the street and no one would notice.
Initially, things went well. People were reading the posts before they entered the chambers and were seeing what their fellow Chicoans felt comfortable saying about other humans. We didn't have bullhorns, like they did, and we didn't have a chant. Most of us stood in a circle around the display and caught up with each other or talked about what we planned to say during the Council meeting.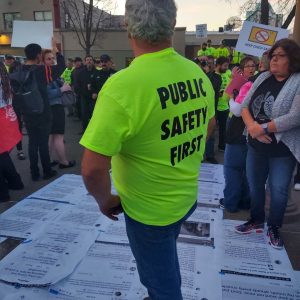 As the meeting time drew closer, the tide shifted. Some in the rally crowd turned their attention toward us, and large numbers of people began to crowd around us. Our posters were kicked and spit upon. A tall young man in our group, Josh Lang, became the main target of the mob. Dozens of people stood in front of him chanting, "Save our town!"
And Josh didn't budge. He held a sign that read, "Public Health is Public Safety" as high as he could over the crowd. I have seen very few instances in my life of conduct that I would consider boldly courageous, and Josh's behavior was nothing short of that. I will always be thankful to him for making himself a target and a distraction so that the rest of us wouldn't be overwhelmed.
I had a man come up behind me and shove me. Hard. As soon as his hands left my body I saw a Chico PD officer grab him and move him away from me. People in yellow shirts and Trump hats screamed, within inches from my face. There were several people there, sporting red silk shirts with the Guardian Angel logo and red berets to match. Their purpose at such protests is to provide "protection" from things getting out of hand. However, one of those men began stomping on our display and trying to rip it up. Again, Chico PD had to step in and remove him.
We didn't run away. We didn't shove back. And as far as I witnessed, Chico PD did an excellent job in this high-tension environment. They kept us safe. If they hadn't been there in large numbers, squeezing themselves between us and those men and women in yellow shirts, it would have been much, much worse. After what seemed like forever, but was only 45-ish minutes in reality, the group ran out of steam and began to disperse.
I hope after this event we can all agree that this isn't, and never was, about safety. If the rally-goers cared about safety they wouldn't have made those officers' jobs so dangerous. People who care about safety wouldn't regularly talk on social media about murdering people they don't even know.
We ALL want a safe Chico. I love this town — this is my sacred ground, the place where my memories live. This is where I was born and where I hope to die. We cannot ever hope to improve our city this way. Violence never solves the problem. Fear never wins, even if it is the first response, a knee-jerk reaction. This is not how we make this a better place to live. This is not how any of us will feel safe.
Morgan Kennedy is a local activist and vice chair of the Democratic Action Club of Chico. She also manages a local food bank and is a foster parent.