by Dave Waddell
Scott Rushing, wearing his only son's blue polo work shirt, had a question Thursday evening for two dozen people attending a sidewalk vigil on the third anniversary of Tyler Rushing's death.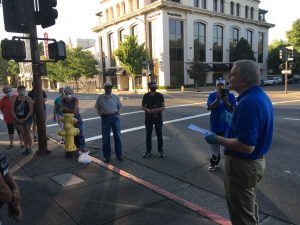 How many people have Chico police killed since Tyler died on a bloody bathroom floor inside a title company on July 23, 2017? The answer, as many in the group knew, is zero.
"Is that a coincidence? I don't think so. … I believe we've saved lives," Rushing said of the activism that followed the killings of his son and Desmond Phillips, a young Black man in mental crisis who was gunned down by Chico police on March 17, 2017.
Tyler Rushing, 34, was first shot in the chest by private security guard Edgar Sanchez and later shot twice at near-point-blank range by Chico police Sgt. Scott Ruppel. Ruppel's second shot during a struggle was into the back of Rushing's neck. Rushing had assaulted the guard with a flower pot handle and had stabbed Ruppel in the neck with a Chico PD-issued ballpoint pen.
In addition to the anniversary of Rushing's death, this week brought bad news for the legal fight waged by Tyler's family. Judge Morrison England of the U.S. District Court, Eastern District of California, in Sacramento, dismissed a lawsuit against the city of Chico and Armed Guard Private Protection, among other defendants. England's decision, dated July 22, praised the police response in Tyler's death, calling it "restrained and methodical." Scott Rushing said Friday his attorney, Mark Merin of Sacramento, filed an appeal of England's decision July 24 with the U.S. Court of Appeals for the Ninth Circuit.
One of the unusual parts of the legal dispute is over officer Alex Fliehr's use of a Taser on a dead or nearly dead Rushing while he lay prone and motionless. Fliehr is the same officer who fired his Glock nine times in close quarters at Desmond Phillips.
Rushing told Thursday of how his son would do little kindnesses for people, including while Tyler operated his window-washing business in Ventura. Kindnesses such as retrieving a Frisbee or a shoe that had long sat on someone's roof.
"He'd just do little things like that because that was Tyler," Rushing said. "He was just such a smiling, gentle person."
The father said the world is in worse shape without his son.
"Tyler was a helper. He tried to make a difference, as you are trying to do," Rushing told those gathered at Sixth and Main streets in downtown Chico.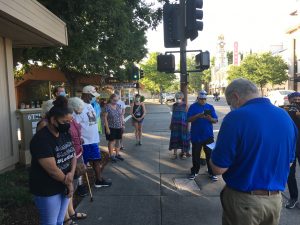 Among those in attendance was Emily Alma, coordinator of Concerned Citizens for Justice (CC4J), which advocates for various reforms at Chico PD.
"Emily's group, I believe you're making a change," Rushing said.
Alma spoke of bringing accountability to Chico's police culture.
"This circle includes a lot of people who care a lot about making changes," Alma said. "We've got to make that change in Chico, and I think we can."
Scott Rushing also singled out Desmond Phillips' father, David, for his support.
"The first one to call me after Tyler was killed, it was David," said Rushing, swallowing hard.
David Phillips recalled meeting Tyler's mother, Paula Rushing.
"When I looked into his wife's eyes," Phillips said, "it hurt me. It hurt me to my heart."
Dave Waddell is a contributor to ChicoSol.