by Dave Waddell
A law enforcement veteran who is also a police dog expert has called the strategy used to apprehend wounded Tyler Rushing "a cluster of mistakes from the time the officers knew where Rushing was barricaded, until he was shot and killed."
Ernest Burwell, a Thompson Falls, Mont.-based consultant, was hired by Rushing's family to study and evaluate the July 23, 2017, shooting of the 34-year-old Ventura man at a downtown Chico title company. Rushing was behaving bizarrely on the title company's property when he was shot once by private security guard Edgar Sanchez, whom he had attacked and cut with a small glass flower pot.
Later, Rushing was shot two more times at close range by then-Sgt. Scott Ruppel of the Chico Police Department. The Rushing family has brought a wrongful death suit against the city of Chico, Butte County and Armed Guard Private Protection Inc. in Tyler's death.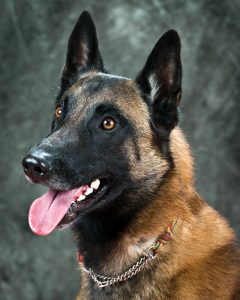 In a Sept. 7 report obtained by ChicoSol, Burwell is extremely critical of the decision by Ruppel, at the time Chico PD's longest-tenured sergeant, to wait for and use a police dog. When "Rushing told Sergeant Ruppel he had a gun, this was no longer a canine deployment. This was a SWAT call and should have been handled as such," wrote Burwell, adding that using tear gas — not a dog — was the best option for safely flushing out, apprehending, and getting medical aid for the dying Rushing.
The report also blasts Butte County Sheriff's Deputy Ian Dickerson, claiming Dickerson "strayed far from the standards of care for canine deployment," including letting his canine "Tig" off leash and repeatedly ordering it to bite the severely wounded Rushing.
"More and more frequently the police dog is being used as a use of force tool to bite suspects even though they are passive" — Ernest Burwell
"The (officers) were not trained properly to understand that when a person is being bit or attacked by an animal, the person will flail around," says Burwell's report. "That flailing does not constitute resistance. It is extremely hard for a person to cooperate while a dog is biting the person. I have personal knowledge of being bit by a police service canine."
Burwell, a Los Angeles County sheriff's deputy for nearly 30 years, says he has "extensive knowledge handling calls similar to this incident … as a field training officer, as a canine handler, as a negotiator, and as a SWAT officer."
Burwell says he worked eight police service dogs of five different breeds during 20 years as a canine handler and trained hundreds of officers in canine handling. Most cop canines are of the Belgian Malinois breed, which resembles the German shepherd but is faster, more agile and more inclined to bite, writes Burwell.
Belgian Malinois require a strong handler, he added.
"Primary mission for a service canine is for law enforcement to use the superior senses of smell to locate people or things hidden," says Burwell's report. "However, more and more frequently the police dog is being used as a use of force tool to bite suspects even though they are passive."
Burwell is pointedly critical of a report commissioned by Butte County for the defense in the Rushing suit. It was written by David Reaver of Jurupa Valley, Calif., who is founder and president of Adlerhorst International Inc., which trains and sells police dogs to law enforcement agencies worldwide. Reaver, who was a reserve police officer for 20 years, defended the use of Tig.
"For some unknown reason," responded Burwell, "Mr. Reaver failed to include in his expert report what was seen on the body cam videos. The video clearly shows that Deputy Dickerson was trying to get his dog to bite and hold Rushing. I could see and hear on the video that Deputy Dickerson was yelling for his dog numerous times to 'PACKEN' which means to bite Rushing. The video shows Rushing trying to fend off the dog by flailing around, kicking his legs, and trying to get away from the dog.
"An animal attack is very terrifying and it is the natural reaction of a human to try to defend himself from the attack. This does not constitute resistance on the suspect's part. The video shows Deputy Dickerson chasing Rushing around the restroom yelling at the dog to PACKEN Rushing as Rushing was trying to avoid being attacked. Again, this is a natural reaction of a human. … Rushing's flailing around was not that of him trying to assault the officers, but only to defend himself from the bites."
Butte County District Attorney Mike Ramsey ruled that Sanchez and Ruppel were justified in shooting Rushing. Ramsey contends that, during the dog attack, Rushing "stabbed" Ruppel in the neck with a Chico PD-issued ballpoint pen, apparently pulled from an officer's pocket during the melee, while striking officer Cedric Schwyzer with a piece of porcelain from a broken toilet. Neither officer was seriously hurt. The pen was never found.
After being shot by Sanchez, Rushing had retreated into a restroom at the title company. The restroom became flooded with water from the toilet that mixed with Rushing's blood and created extremely slippery conditions. Reaver's report for the defense acknowledges that the wet floor "compromised the effectiveness" of Tig.
On that point, as it often does, Burwell's report chides Reaver: "Mr. Reaver knows that many police service dogs have difficulty working on a slick floor and actually won't perform at all … The officers knew that the floor was flooded prior to making entry. It appears that Mr. Reaver knows that this canine deployment would be unsuccessful from the point of entry into the restroom and it would be unreasonable to use a police dog in that environment. However, had Mr. Reaver opined that the deployment should be discontinued, his expert report would not support his other opinions."
A second expert law enforcement opinion commissioned by the Rushing family and written by Roger A. Clark of Santee, Calif., agrees with Burwell's report. Clark determined that the "free-roaming release of Tig resulted in an unexpected, unknown and uncontrollable variable" for officers within the small bathroom.
Clark, who operates Police Procedures Consultant Inc., was highly critical of what he describes as Dickerson's "deliberate disobedience" of Ruppel's order to keep Tig on leash. Clark, in a report dated Aug. 9 and obtained by ChicoSol, also rips Ruppel for showing "deliberate indifference to the life and safety of Mr. Rushing."
After being shot to the bathroom floor by Ruppel, and though he lay prone and motionless, Rushing was then shot with a stun gun by Chico officer Alex Fliehr. Rushing was then handcuffed, dragged out of the restroom and, a short time later, pronounced dead. His body lay on the title company floor for about 10 hours.
Butte County Sheriff Kory Honea and Chico Police Chief Mike O'Brien declined to comment on the Rushings' experts' findings, citing the family's pending litigation. Scott Rushing of Ventura, Tyler's father, also declined comment.
District Attorney Ramsey was asked via email to comment on Burwell's view that a terrified Rushing, in his flailing, was fighting off an aggressive dog attack, a view that stands in opposition to Ramsey's narrative. The official narrative suggests Rushing was the aggressor, violently attacking officers.
Ramsey's reply was non-responsive to the question. The DA instead forwarded an Aug. 12 letter to him from a state deputy attorney general. The letter states that the AG's office, after reviewing the case, had determined that Ramsey, in not bringing criminal charges, had not abused his prosecutorial discretion.
Dave Waddell is a contributor to ChicoSol on stories related to policing.