by Dave Waddell
Newly elected Chico City Council members will be sworn in Dec. 4, and Scott Huber expects to be there, raising his hand and reciting the oath of office.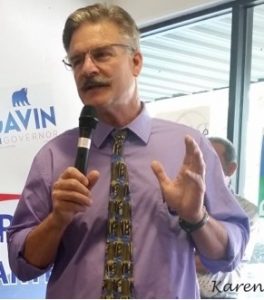 According to the latest vote tallies, the liberal Huber holds a 141-vote lead over incumbent Andrew Coolidge for the third and final Council seat contested in the Nov. 6 election. With nine candidates vying, conservative Kasey Reynolds finished on top with 12,758 votes, while progressive Alexandria "Alex" Brown was second with 12,128. Huber currently is in third with 11,521 votes, while the conservative Coolidge is fourth with 11,380.
If Huber is seated, the Council will shift from a 4-3 conservative majority to a 5-2 liberal advantage – despite more than a quarter of million dollars pouring in to advance the candidacies of Reynolds, Coolidge and Matt Gallaway, who finished sixth.
Candace Grubbs, Butte County's top elections official, told ChicoSol late Thursday that a number of her employees were impacted by the Camp Fire that has decimated Paradise, but that she hopes to be able to provide more clarity Tuesday on whether it's possible for Coolidge to overtake Huber. Some ballots remain uncounted, but Huber says they are likely to only increase his lead.
"I'm moving forward confident that I will be sworn in, in December," Huber said. "Conventional wisdom is that late voters and (vote-by-mail ballots) turned in at the polls are predominantly liberal, so I'm certain my numbers will rise at a higher rate than Mr. Coolidge's."
Coolidge did not return a message seeking comment on the status of the race.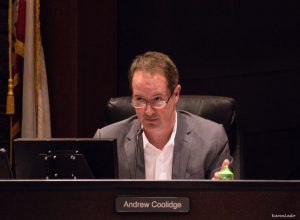 Huber said "it warms my heart to know that Chicoans saw through the big advertising budgets and mailer saturation and chose the path with heart" by electing him and Brown.
"If by some chance … I end up fourth," Huber said, "we have still achieved my No. 1 goal … to flip the Council to a thoughtful, caring and inclusive majority. I can definitely live with that."
Huber said his first priority as a councilman would be a discussion of adding some immediate winter shelter options "to keep people sleeping out from getting sick and dying." These could include renewed consideration of the fairgrounds or warehouse spaces owned or leased by the city.
A total of more than $260,000 was contributed to conservative candidates and an independent PAC working to elect them, Chico Citizens for Accountable Government (CCAG), which reported raising $54,500, largely from development interests.
"I am thrilled the developers and business interests spent an ungodly amount on their candidates only to be shown people are too smart to be bought," Huber said. "They probably won't learn from it, but it makes a compelling case for more campaign spending regulations."
Gallaway's campaign reported donations of a staggering $75,400 during the 2018 election cycle. That sum, added to the $17,500 CCAG reported spending in his behalf, totals $92,900 – a figure which, if divided by his 10,288 votes, amounts to about $9 per vote.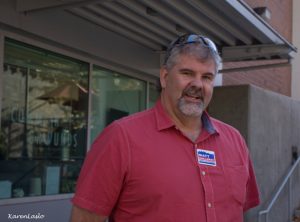 In contrast, the $42,900 reported raised by Brown, the liberals' top vote-getter, when added to the $700 spent to aid her cause reported by the Chico Democrats' PAC, calculates out to about $3.60 each for her 12,128 votes.
Overall, the race attracted more than $400,000 in contributions. In 2014, the $46,900 raised by Reanette Fillmer — $26,500 less than Gallaway's campaign brought in a mere four years later — was considered record-breaking for a Chico City Council candidate.
Chico Democrats' main funding during the election cycle was a $30,000 donation from NextGen California, a PAC created by billionaire hedge fund manager/environmentalist Tom Steyer, according to campaign filings.
The amounts per vote spent by the campaigns on behalf of Matt Gallaway and Alex Brown, which were inaccurate in our originally published article, have been corrected.
Dave Waddell is news director at ChicoSol.