by Leslie Layton
Chico Police Department today blocked the media from Boucher Street as officers informed homeless people camping there and at Forest and Humboldt streets that they had to move.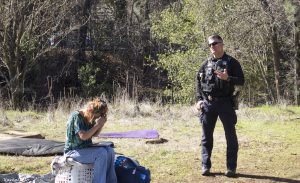 Unhoused people at both sites had been given 72-hour eviction notices that had expired. And as the rain ceased and the sun broke through today, police moved in on the encampments.
At Boucher and Wisconsin streets, community members offered to help campers load tents and possessions into trucks and move them if they had someplace to go. A few people chose to move to beneath the Highway 99 overpass in lower Bidwell Park. But with no shelter space available in the city, many didn't know what to do.
Although some of the community volunteers were allowed entry to the encampment, police blocked a section of Boucher from the press. Officer Andrew Cooper said it was a "work zone" and because heavy equipment was moving around, they couldn't let reporters pass.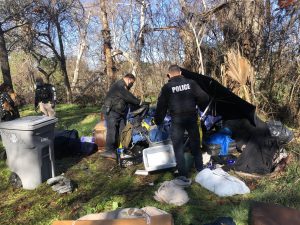 At Forest and Humboldt streets, meanwhile, officers told campers to be out by evening. The homeless residents there said they had been given 72-hour notice late last week, but were unsure where to go.
A new more conservative City Council has moved swiftly to take action that appears to be aimed at driving unhoused people from the area. In a Feb. 5 interview with KPAY radio, Councilmember Sean Morgan said the policy would force people to leave. "The police department is gonna' keep moving them, and they're gonna' keep moving them," Morgan said. "The stragglers who just came to Chico, which is the great majority of them, because it was convenient and it was easy … They are going to go somewhere else."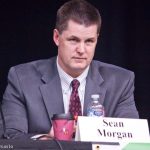 Under the Highway 99 overpass, though, one homeless camper told ChicoSol he was born in Oroville and raised in Chico. "I've been in Chico 25 years, Donavan Arbayo said. "I did have an apartment in Oroville in 2018, but because of the cost of living we had to walk away from it."
His wife, Tia Metcalf, emerged from their tent barefoot and, when offered disposable face masks, asked for help getting socks.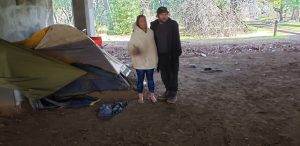 This was at least the third major sweep conducted by the city. The sweeps have left many community members ashamed of their city and struggling with the morality of the policy.
"It's almost unnecessary cruelty," said Laurel Yorks, a former housing advocate and Chico resident. "It's a dangerous, dangerous plan and people are going to die. That doesn't seem to be enough of a reason not to chase people out of town and treat them as if they're human garbage. It's so upsetting."
Councilmember Scott Huber, who has opposed the panel's enforcement policy, and activist Charles Withuhn discuss the tragedy of homelessness: