by Leslie Layton
Spanish linguistics Professor Denise Minor will be remembered for many things – for her creative approach to teaching, devotion to her family, fierce loyalty to those she loved.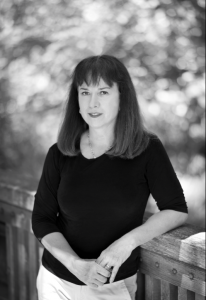 She has already been remembered for her joyful laugh, her love of language and her appreciation for its evolution, all of which shaped the students she taught and the Chico State Spanish Program that hired her in 2007.
A memorial fund in her memory has been opened here to aid first and second-generation Latinx students.
Perhaps it was her love of life that explained her courageous, unrelenting battle with cancer and her sadness at leaving those she loved at the age of 62. In gatherings since her July 1 passing, her laugh has been described as "mischievous," "contagious" and "delighted."
Denise, an associate professor, passed away at home in Woodland after an almost 9-year battle with breast cancer and surrounded by the family she loved – husband Alex and sons Nathan, 28, and Max, 25, and her dog Boris. She was a former journalist who contributed articles to ChicoSol and encouraged her students to do the same – both in English and Spanish.
Her fascination with 'code-switching' – a term used by linguists to describe that mix of languages often heard in immigrant communities – helped students who had grown up in Spanish-speaking homes view what is sometimes called 'Spanglish' not as a liability, but as a gift. Her view of code-switching reflected her belief that language is always evolving in ways that reflect the human experience.
But she also had a lasting impact on the Spanish Program, said her faculty colleagues, pushing the Department of International Languages, Literatures and Cultures to emphasize formal writing skills in both English and Spanish earlier in the major and working on behalf of non-tenured instructors.
"She was a brilliant linguist and a progressive activist who was always defending the working rights of our instructors at Chico State," said Pilar Alvarez-Rubio, a retired colleague who attended an impromptu memorial organized by former students on July 11.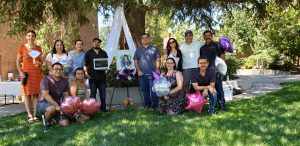 Rony Garrido, a Spanish professor, said Denise sought ways to help students improve formal writing and speaking skills required in professional careers.
"She brought a lot of that journalism background into the classroom," Garrido said. "She was always reminding them to keep it simple and direct, and she was always trying to help students who needed extra support for their writing."
As a dozen people stood in the shade on a sweltering afternoon on the university's front lawn, former students recalled Denise's delight more than 20 years ago when she first heard the word "chillaxin'" – a combination of the slang "chilling" and the more conventional "relaxing."
She then published an essay in ChicoSol, "Chillaxin' in California," to introduce a series of student-authored articles about language.
"… I am fascinated by the rule-breaking, the invention of new words and the jumping back and forth between languages that constantly goes on in the banter of young people," Denise wrote in the essay. "They are playing with language, the same way that they toy around with a soccer ball during recess or mix up tunes with their garage rock band."
Students and faculty members said Denise's appreciation for code-switching helped students learn self-confidence and overcome embarrassment they sometimes had about their language skills. Denise viewed the ability to "bounce back and forth between two languages" as a dance, said Jamie Fisher-Vargas, one of three former students who organized the memorial.
"She knew that they were not choosing a word in Spanish because they didn't know it in English, but because it's how your brain thinks and how it comes out," said Fisher-Vargas, who was so influenced by Denise that she became a Spanish teacher who now works at Chico High. "Your Spanish was you and it was part of you, and she made you feel good about that."
In a memorial tribute to Denise, Fisher-Vargas recalled how her teacher had encouraged students to apply their skills.
"If you were good at Spanish and had leadership qualities, she set you up to be in charge of conversation hour," said Fisher-Vargas. "Talented writer? She got you units to write for ChicoSol. She hears you speaking in what we thought was 'Spanglish'? She'd interview you and write an article on how cool code-switching is and the incredible abilities of balanced bilinguals to dance between both languages como si nada."
That interest in the evolution of language led her to develop the curriculum for a popular general education course called "Bilingualism in North America." The course was offered by other faculty members after Denise retired several years ago to focus on recovery from cancer treatment.
The course evolved out of Denise's study of the interplay of the multiple languages that are spoken in many parts of North America, and became so popular that it eventually required help from a teaching assistant.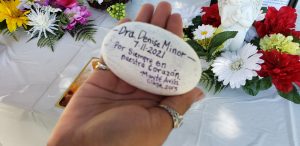 Juan Diaz-Flores, a 2021 Chico State graduate who majored in math, said he enrolled in the course only to satisfy his general education requirements.
"The ideas I took from her classroom are far more valuable than I could have imagined," Diaz-Flores said in a written testimony. "Being a bilingual student and coming from a Hispanic household, I often felt alone in my studies. Maybe it was because of this that I used to look at my culture with resentment. Whatever the reason, it was Dr. Minor who gave me a new perspective. It is because of her that I now look at my culture with pride and realize how advantageous I am. Words cannot express how grateful I am to have met Denise and how lucky I was to have taken her class.
"She opened my eyes to a brand new world that I now have the pleasure of exploring," added Diaz-Flores, who is leaving soon for his first visit to his mother's home country of Guatemala.
Garrido said Denise worked for other curricular innovations as well. For example, the department is set to begin offering a course she had wanted called "Spanish for the Professions" that will provide more paths for use of a Spanish major.
At the memorial, Spanish Professor Sarah Anderson said she is using a book Denise co-authored on how Spanish should be taught. (Denise co-authored the book, "On Being a Language Teacher: A Personal and Practical Guide to Success" with a friend from the University of California, Davis, where she had earned her doctorate in linguistics.)
To Denise's former students at the memorial, Anderson said the book, "tells the stories of all of you."
"That book contains the stories of her teaching experience," Anderson said. "I'll carry her with me throughout the fall semester …. and always. She was a colleague, a friend, a mentor."
As a journalist, Denise worked for Pacific News Service in San Francisco and freelanced for a neighborhood publication, "The Noe Valley Voice." In 1987, the paper's editor arranged a blind date for her with a dashing bachelor new to San Francisco. She married Alex Milgram two years later.
Alex was impressed immediately – with her mind, her exuberance and her prettiness. She took that exuberance to her final battle with cancer.
"She always left space for things to be better the next day," Alex told ChicoSol. "She would soldier on and not complain; she would show up to take a treatment or go into surgery, just do what had to be done."
Alex has set up a scholarship fund at North Valley Community Foundation in her memory, the Denise Minor Memorial Scholarship Fund, to provide help to Spanish-speaking students who want to pursue a teaching career.
"It was heartbreaking for Denise to leave her beloved teaching profession," Alex said. "When she was in front of the classroom, her illness and any other problems of her life simply faded away. She was in her element. If she was somehow to be able to continue that legacy, this would be one of the ways to do it."
Leslie Layton is editor of ChicoSol, and became acquainted with Denise when she agreed to serve as Spanish-language adviser to ChicoSol when it was publishing in both English and Spanish.