by Leslie Layton
The winter sheltering organization Safe Space jumped into high gear today as a ferocious early storm flooded homeless encampments. But Safe Space said it was only able to shelter 35 of the hundreds of unhoused people living in encampments.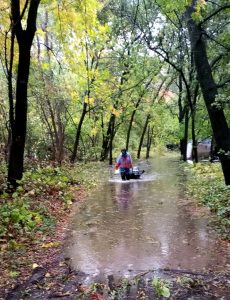 Siana Sonoquie, a Safe Space board member, said she was contacted early today by an unhoused resident of the Comanche Creek encampment who reported that the area was flooding, tree limbs were falling down and one person was missing. "We started looking for a church," Sonoquie said. "We're used to doing this now and have a pretty quick system, with protocols in place and a lot of practice."
First Baptist Church and its pastor, Gail Hill, offered space.
Sonoquie said campers at Lost Park were also flooded, and because Safe Space could only accomodate 35 people at the church, there was an effort by staff, volunteers and the homeless to get the most vulnerable people under a roof. Every week, she said, she talks with someone who has been unable to meet the criteria for entry to the Jesus Center and Torres Community Shelter.
"This is indicative of what we're going to need to do this winter," Sonoquie said this evening. "The need is going to be so great this year, the weather so bad, that we're going to need a bigger place."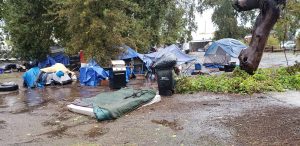 The Chico Hunger Trolley and other nonprofits and activist organizations also assisted in today's mission. The City of Chico declined to provide sheltering options until recently, when it agreed to work on alternatives as part of a lawsuit settlement.