by Leslie Layton
posted Feb. 23, 2022
The City of Chico may have lost or destroyed public records related to police killings, and has stonewalled for more than a year in response to record requests, says a lawsuit filed Feb. 18 against the City.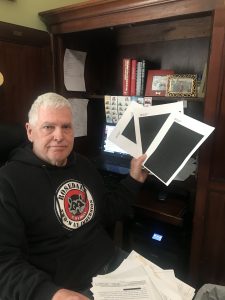 A lawsuit filed by ChicoSol contributing writer Dave Waddell in Butte County Superior Court says the City is in violation of the California Public Records Act because of its continual "withholding of records" as well as its "excessive redactions" in those records that have been released.
"The City has made it clear, by missing its own self-imposed deadlines, again and again, that it will not comply with the law …," states the lawsuit filed on behalf of Waddell by his San Francisco attorney, Aaron Field.
Waddell said he made every possible effort to work with the City and avoid the step he has now taken.
"If you read the lawsuit, I think you'll discover that we did everything except the Limbo to avoid suing, but as it turned out the City of Chico wouldn't have it any other way," Waddell said. "Instead of providing records as required under California's sunshine laws, the Police Department apparently withheld, lost or destroyed, and excessively blacked out documents."
The office of city attorney Vince Ewing said it had no comment on Waddell's lawsuit, and asked on Feb. 22 whether Ewing had reviewed the suit, Executive Assistant Maxine Caudillo said, "No comment and you have a great day."
The lawsuit asks for a "judicial declaration" that the City is in violation of state law, that the court demand full compliance with access laws and that the City cover all attorneys' fees and costs incurred by Waddell, who previously served as news director of this publication and is now working on a book about Butte County law enforcement killings.
The City of Chico and the Chico Police Department have also been named in high-profile lawsuits, including the wrongful death lawsuit filed by the family of Tyler Rushing, who died almost five years ago after being shot by an armed security guard and Chico police officers. Chico PD has been sued by an African American, Donell Thomas, who alleges racial discrimination. It was a defendant in the lawsuit filed by Legal Services of Northern California over the City's treatment of unhoused residents.
In a settlement agreement reached earlier this year in the homeless lawsuit, the City agreed to pay $650,000 to cover the costs of the many attorneys who worked on behalf of the eight plaintiffs.
In November, ChicoSol reported on Waddell's frustration with both Chico PD and the Butte County District Attorney's Office over non-compliance with public records laws. The lawsuit filed last week – Field said city attorneys received "courtesy copies" the evening of Feb. 22 – focuses on non-compliance by the City in turning over records related to the killings of Eddie Sanchez (2015), Desmond Phillips and Tyler Rushing (2017), and Stephen Vest (2020).
Attorney Field said the records should have been retained and made available by either Chico PD or other offices in the City of Chico. When the City indicated it hadn't retained some records, Waddell agreed to wait until the City had re-acquired the records from Butte County.
Some records were then delivered to Waddell in November, but the City said it needed more time to review, redact and "roll out" the rest, many of which never came.
"For some reason, the City didn't hold on to records as it was supposed to do," Field said. "There was a continued moving of the goalpost for disclosure. This essentially amounts to a pattern of non-compliance with the Public Records Act."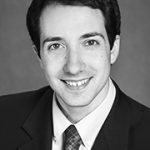 "We may come to understand what happened as the lawsuit progresses," Field added.
Field noted that the California Supreme Court has said that "openness of government is essential to the functioning of democracy." The need for transparency is "heightened" and "overwhelming," he said, in cases involving the use of deadly force.
"There's no greater exercise of government power than when the power is exercised to take someone's life," Field said.
The mystery of unretained records
In an 18-page lawsuit petition, Field provides a detailed timeline of record requests and responses that he says show his client has been "incredibly patient" with the City, and that raise questions about records that were apparently missing from City files. For example:
— Nov. 15, 2020-Feb. 17, 2021: Waddell submits record requests for the four cases. A small number of records related to the recent killing of Vest and the other cases are sent in response.
— June 14, 2021: The City says it has "disclosed all records in its possession"; it notes there may be more records related to the Vest case in the Butte County DA's Office. Waddell then directs record requests to the county.
— August 2021: The county says it is the "City's responsibility to retain records related to its own police shooting investigations and to disclose them in response to Public Records Act requests when required." The county re-sends many records to the City that appear to have been lost or discarded.
— November 2021: The City delivers some records and promises more in December – but they never come.
— Jan. 27, 2022: The City can't yet release more records because staff have been "out sick."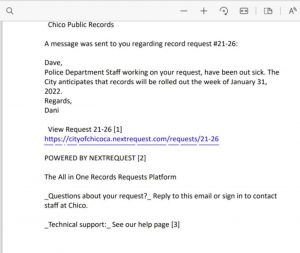 In addition, the lawsuit says there are redactions "unsupported by law." In the Sanchez case, the City blacked out "large blocks of material, spanning many pages in some cases…" One of the redactions blacks out Sanchez's "prior violations of law."
A criminal record belonging to someone who has been killed by law enforcement officers could potentially be "really important to understand," Field said.
In a Jan. 6 email to the City, Waddell discusses missing records with Deputy City Attorney Gloria Ramirez and notes that he has "run out of patience" given that he submitted the request in the year 2020 "and it is by now, as I'm sure you're aware, the year 2022." He notes that he hasn't even received the victim's autopsy report.
Ramirez responds in a Jan. 14 email, stating that Chico PD has a "limited number of sworn officers authorized to review and process sensitive records …"
Public records advocates argue that months of delays affect the newsworthiness of stories. "The City was required to allocate the resources necessary to comply with state law, which means timely processing Mr. Waddell's requests and timely disclosing responsive records," Field said.
Under legislation that took effect this year, public records must be disclosed within a 45-day period.
Field declined to say how much attorney fees might cost the City if his client prevails, noting that it would depend largely on how long it takes to reach an agreement or settlement. He said attorney fees would be under $100,000 at this point.
Waddell says the City is "preventing the public from getting all of the details about its officers' killings.
"In my view, accountability and meaningful change do not occur in any agency so resistant to transparency," Waddell said.
Leslie Layton is editor of ChicoSol.